Hi!
Had a practise game with my DE before an upcoming tournament. It was my second game with DE ever and my first and only practise game with the list before the tournament, so I wasn't very used to the list. On the other hand it was my friends 5th game ever of epic so I definitely had an big experience advantage.
The list used were the following:
Quote:
Dark Eldar, 3000 POINTS
Kabal of Pain's Way
==================================================

KABAL COTERIE [300]
4 Incubi, Archon, 2 Raider

KABAL SYNDICATE [450]
6 Warriors, 2 Barge of Pleasure

KABAL FLOTILLA [350]
6 Ravagers

REAVER GANG [200]
6 Reavers

REAVER GANG [200]
6 Reavers

HEAVY BARGES [250]
Vessel of Pain

HEAVY BARGES [250]
Vessel of Pain

HEAVY BARGES [250]
Vessel of Pain

TORMENTOR TITAN [500]

FIGHTER FORMATION [200]
2 Raven Fighter
Quote:
Incompertus, 3000 POINTS
13TH BLACK CRUSADE BLACK LEGION (2014 Armybook Edition)
==================================================

RETINUE [475]
8 Chaos Space Marines, (Chaos Undivided), Obliterator, Daemon Prince (Supreme Commander), Daemonic Pact

ARMOURED COMPANY [300]
(Chaos Undivided), 4 Chaos Land Raider

CHAOS TERMINATORS [460]
(Chaos Undivided), Chaos Lord, Obliterator, Daemonic Pact, 5 Chaos Terminator, Icon Bearer

RETINUE [375]
8 Chaos Space Marines, (Chaos Undivided), Chaos Lord, Obliterator, Daemonic Pact

RAPTOR CULT [175]
(Chaos Undivided), Chaos Lord, 4 Raptor

HAVOC RETINUE [250]
4 Havoc units, Chaos Lord, 2 Rhinos, (Chaos Undivided), Daemonic Pact

DECIMATORS [225]
(Chaos Undivided), Decimator

DECIMATORS [225]
(Chaos Undivided), Decimator

DAEMON POOL [90]
(Khorne), 6 Lesser Daemon

FERAL TITAN [275]
(Chaos Undivided)

DEVASTATION CLASS CRUISER [150]
(Chaos Undivided)
My friend started by choosing corner deployment, with him having the upper left in the first pic. We were both kind of bunched up (the spaceship would come turn 2) towards the middle of the long board edge. Like below. Objectives per the arrows.
I won the roll of for the initiative and forced chaos to move first. This was done doubling upp the middle with his havocs, shooting 10cm out of area terrain produced a bunch of dead reaver jetbikes.
I wanted to avoid moving forward still for som time so sent the airplanes in. They have lance attacks so I wanted to go after somwthing with reinforced armor. I shot the land raiders producing a lance hit. But it was saved.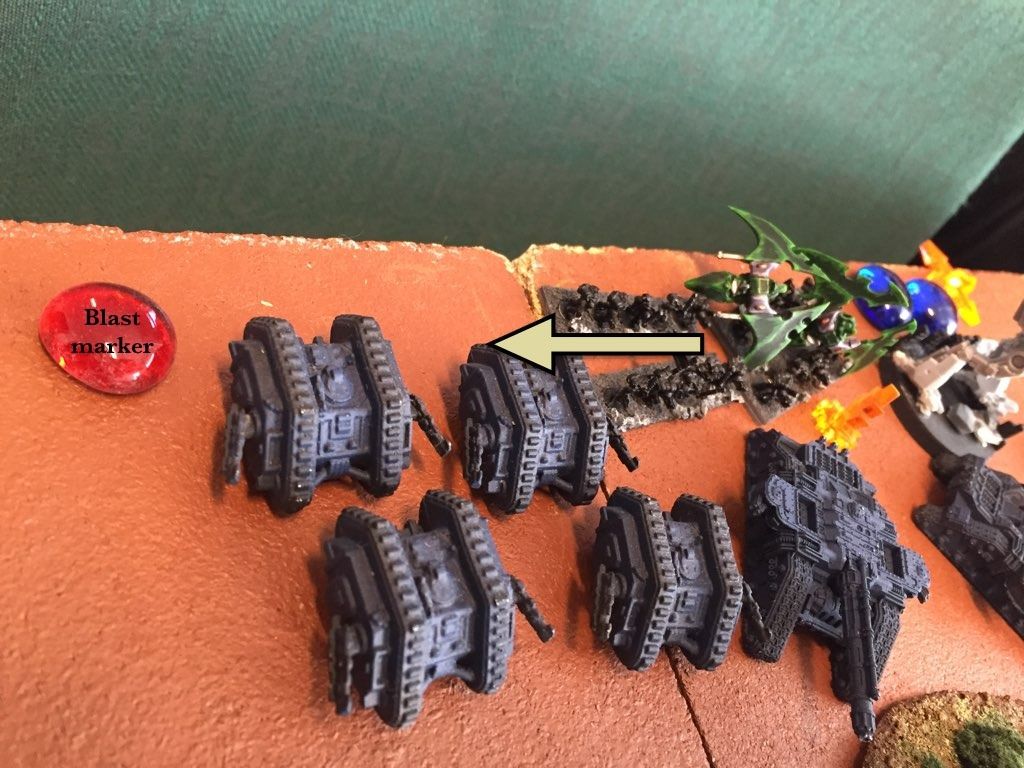 The next picture show the coming three activations. Chaos moved up one decimator and the land raiders in between wich I marshalled and moved the reavers.
Next was me activating the warriors in barges they moved towards the ruins (advance) making a pop up attack shooting the retinue. They elected to use their overwatch, but only took one shield down. One chaos marine unit was destroyed.
The next chaos activation saw the feral titan double up and shoot the reavers, which lost another unit. I smelled blood and elected to march with my other reaver formation to surround the titan. I followed that with bringing the ravagers on board from the portal and claimed cross fire.
I got one hit through the shields which, together with the bonus blast marker from cross fire, was enough to break the titan. It fled back behind the forrest to stay away from the vessels of pain.
The second decimator was brought forth. It was able to kill and half of the reaver squad which saw them fleeing back behind the hill to my left flank.
I proceeded to activate my titan and assaulted the havocs. I was going in at an disadvantage with him outnumbering my titan, but I figured my shields would save the day. I just needed to make some kills. It payed of I killed 2 or 3 units and only lost one shield du some crappy to hit rolls for chaos. The last 1 or 2 infantry died to the resolution roll. The surviving rhinos fled back towards my rightmost take and hold objective. Consolidation move in second picture.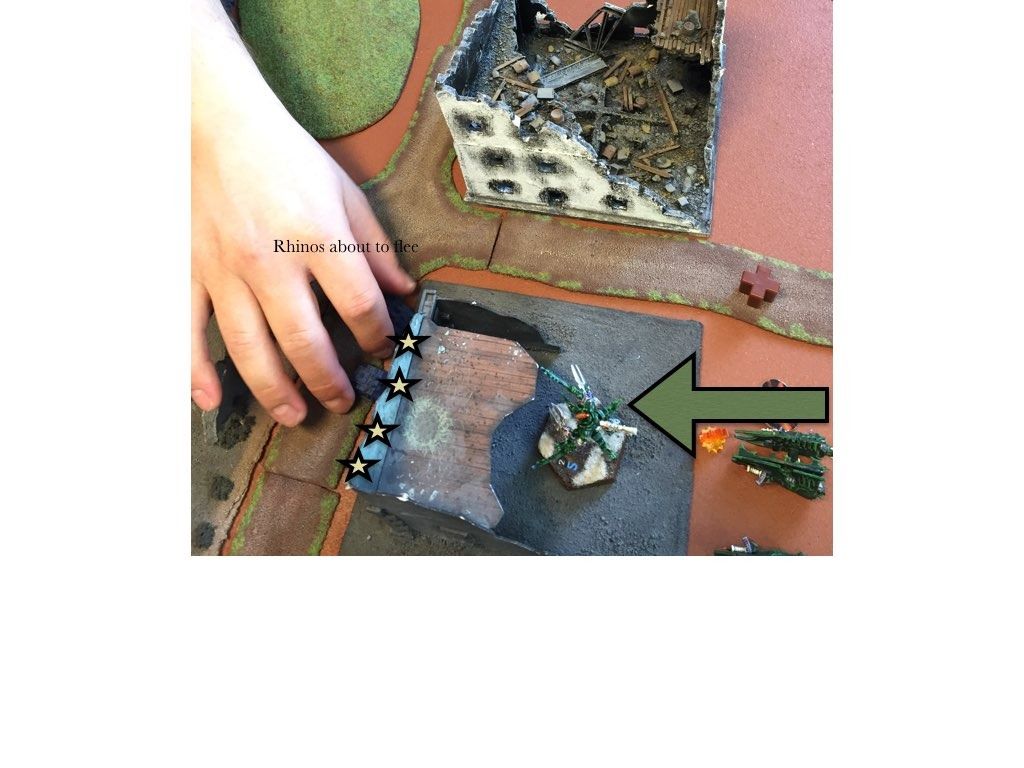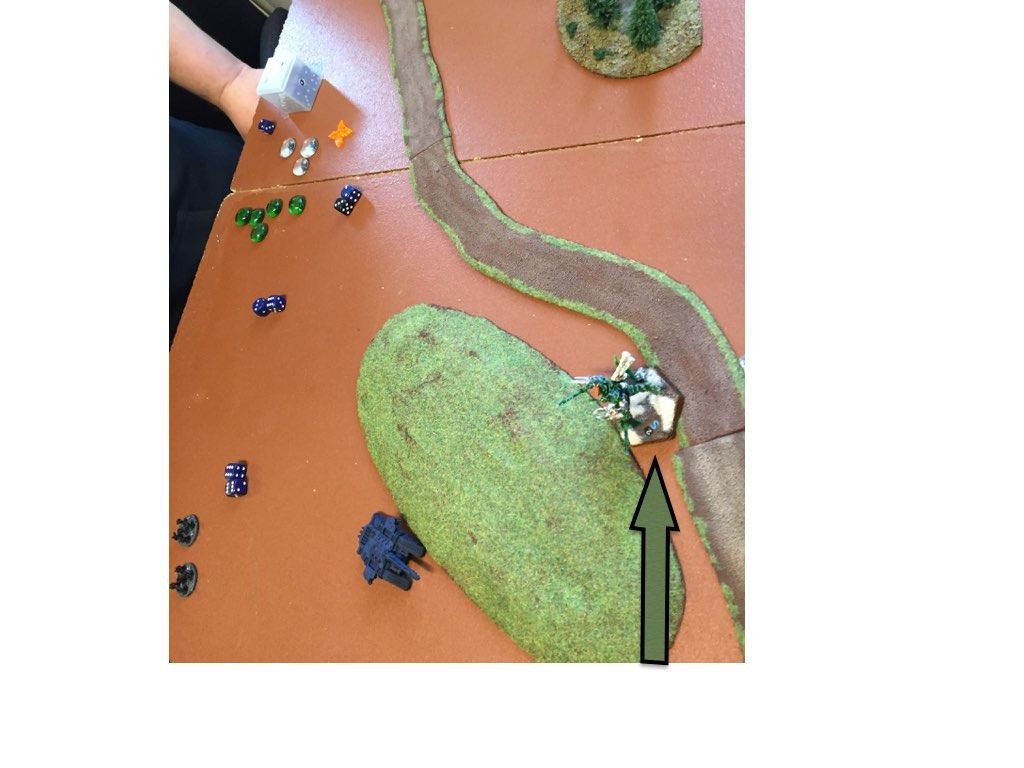 After this the blitz guarding retinue was put on overwatch (no pic). I doubled up with a Vessel of pain (VoP) and shot the land raiders. I was lucky and both TK attacks hit. Halving the formation and breaking it. They fled back towards the blitz guard retinue.
Raptors marched up the field towards the hill on my left flank (no pic). My next activation was another VoP. It doubled up and shot the broken land raiders. I scored no hits but one fled due to blast marker effects.
I had one more activation which was my icubi the doubled up and put a blast marker (pop up) on the decimator.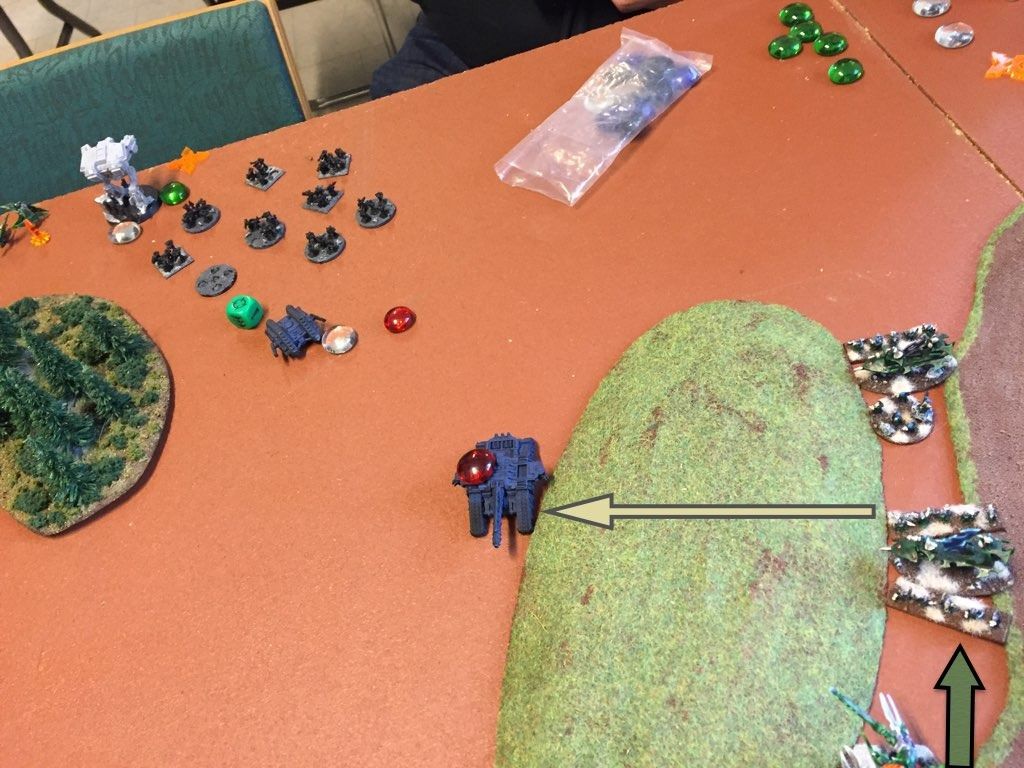 TURN 2
Terminators teleported into one of the ruins in the middle intent on assaulting my titan with deamon support. I was however lucky and won initiative again. I started by activating the titan. It assaulted the BTS retinue in the middle. I got into CC but I placed it so that the deamon prince couldn't. The titan lost all 3 shields to FF attacks, but no damage was suffered. It consolidated towards the forest on the left away form the termiators (no pic).
I retained with the incubi and assaulted the decimator. One infantry unit was lost for 2 damage on the tank. It lost, but elected to stay (fearless). Second picture shows my consolidation move.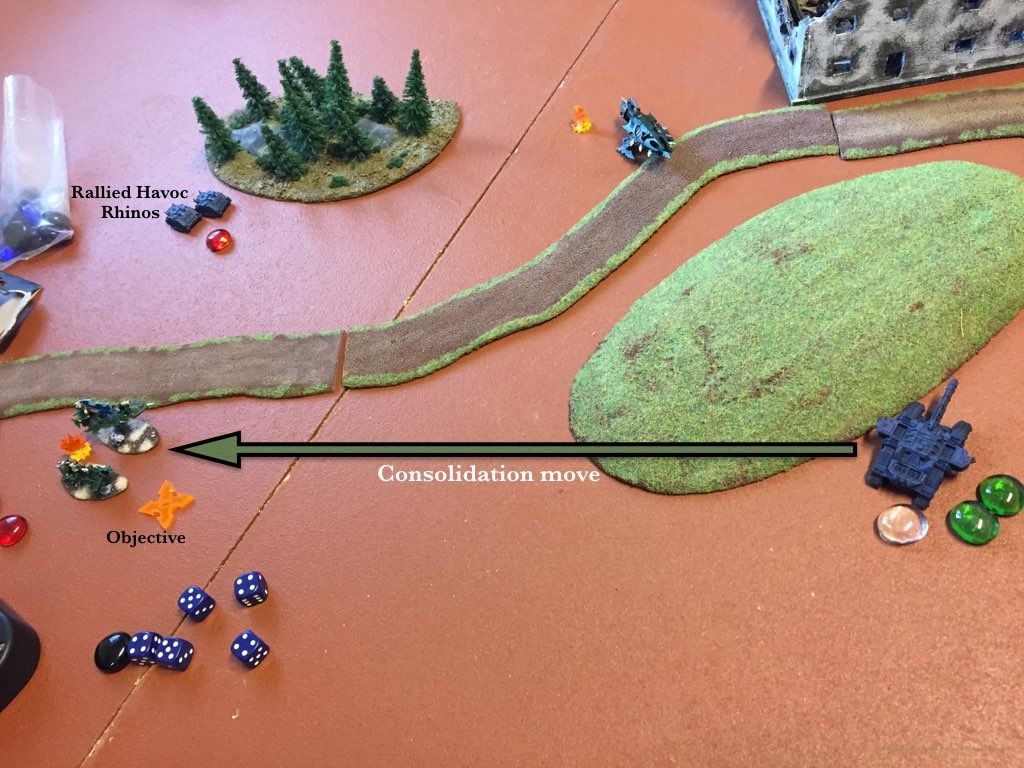 The response was an assault by the terminators into my warrior formation. It was a bit of a gamble as I had no blast markers but the terminators did after teleporting. Chaos scored 4 hits but two were taken on shields. I killed 2 or 3 units as well. So the combat roll was in my favor. All deamons died to resolution. The terminators withdrew to the ruins that previously held the BTS retinue.
My friend probably retained but I can't remember what his second activation was. My next was shooting the leftmost decimator with the ravagers putting some damage on it and breaking it.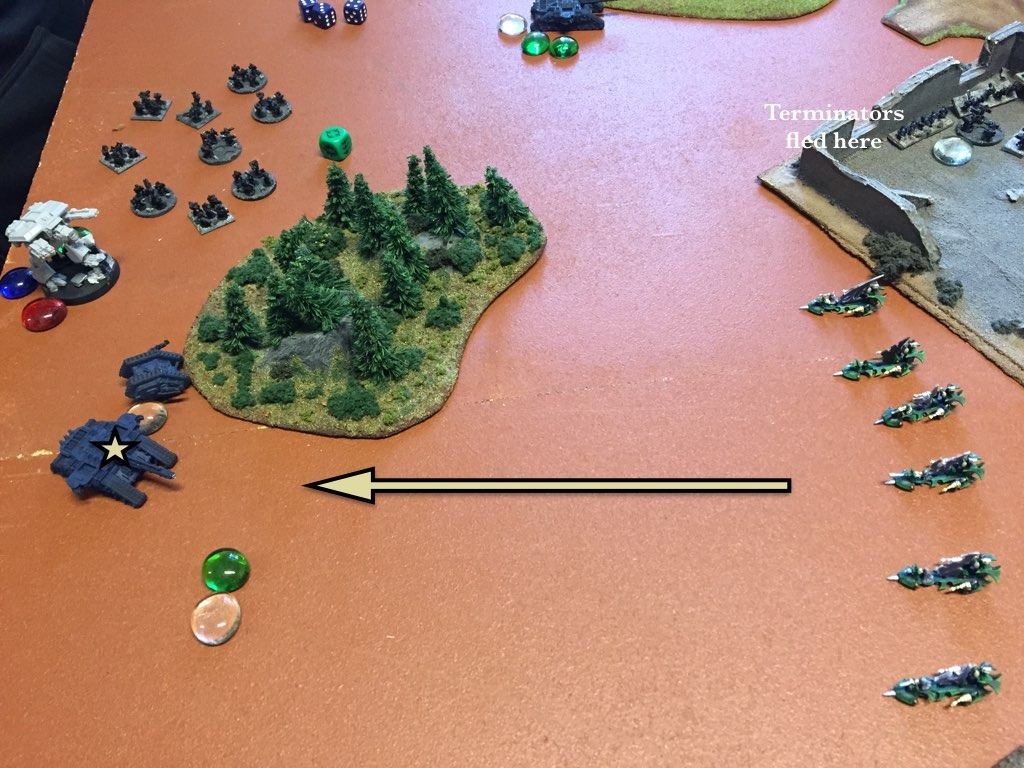 The rallied Feral wanted payback after turn 1 so went after the now exposed ravagers. 2 were killed. The formation broke and fled to the left side of the table by the wood.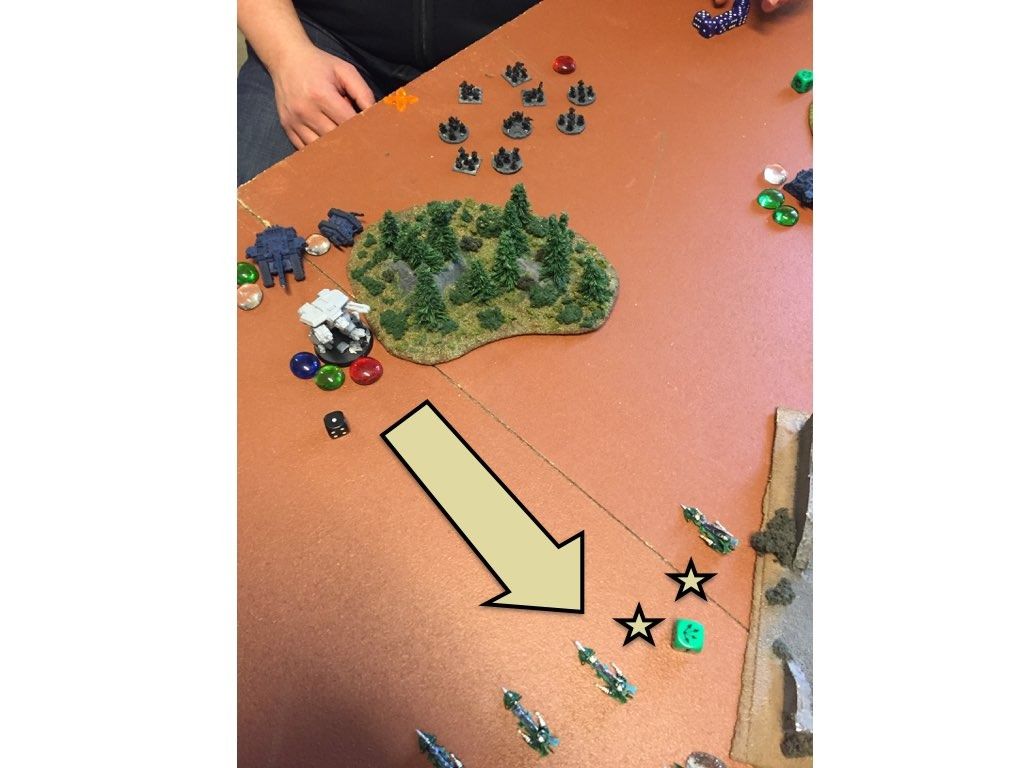 The land raiders didn't manage to rally. I wanted to finnished them off and stall a bit before moving my VoP's up. So I sent the airplanes in. One was lost to obliterator AA, but the other one made the broken tank flee throuhg BM effects.
Rhinos marched down towards my corner before turn 3 so taht they could annoy and threathen my blitz.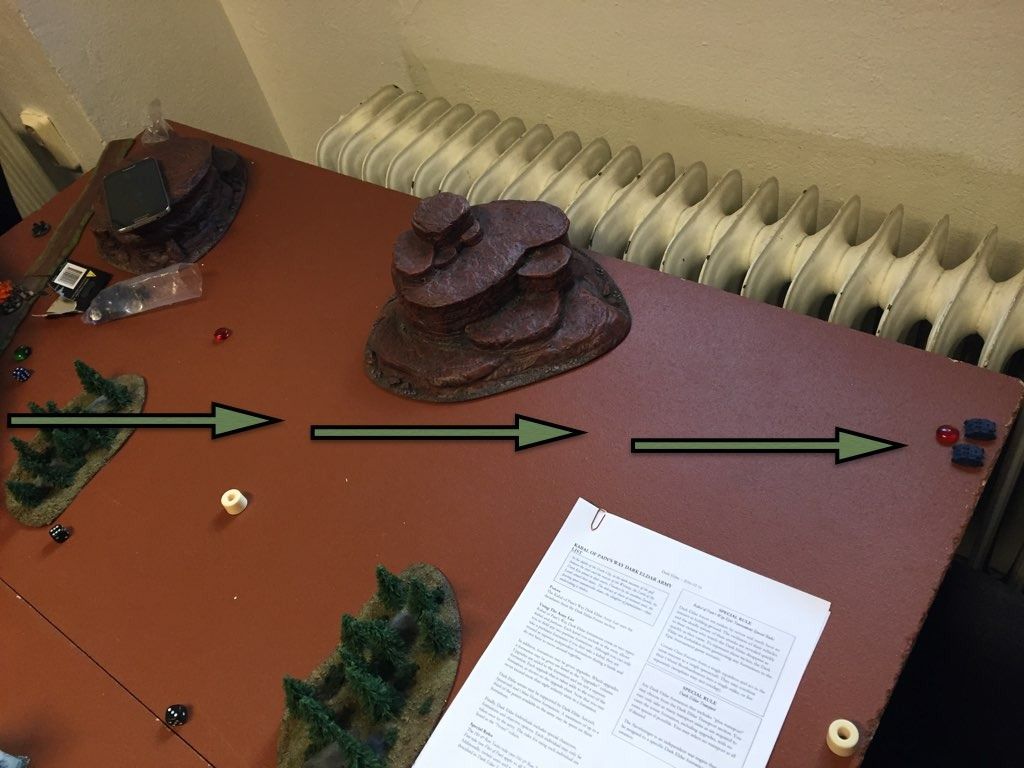 Next picture shows the space ship arriving. The barrage didn't hit anything (was centered on one of the ruins). The pin point attack however hit and produced 3 hits om my titan. Having only one more hit I decided to flee back to preserve BTS.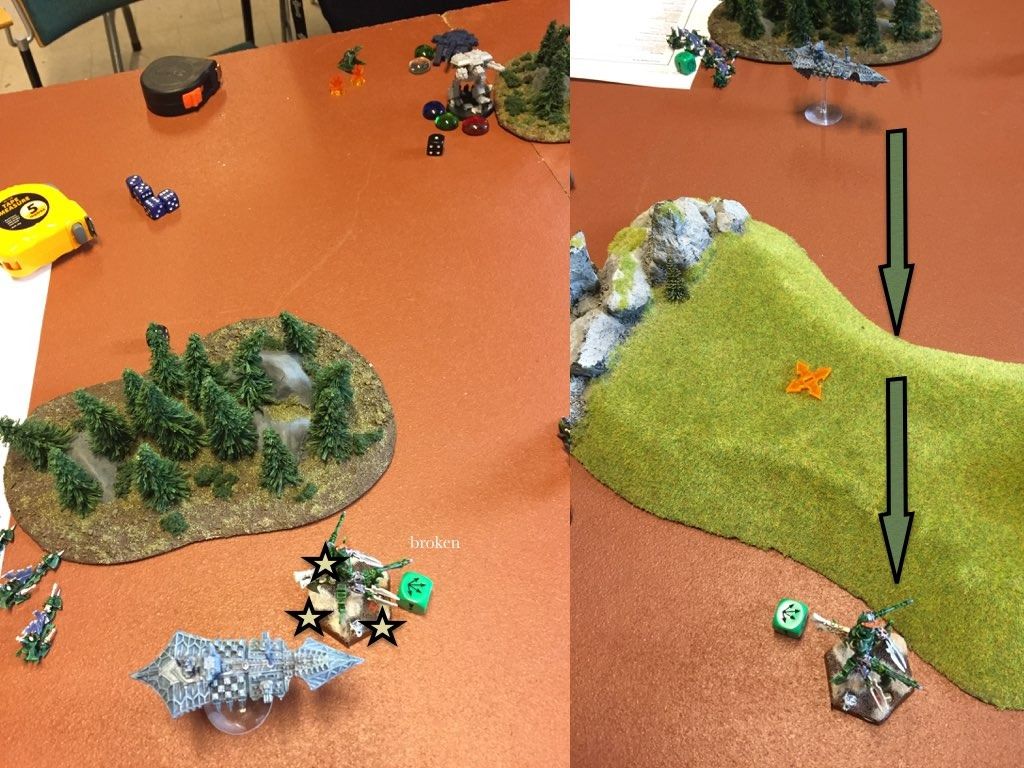 Next was me advancing with one VoP. I attacked the the broken terminators. One TK attack killed which made two more units flee due to BMs.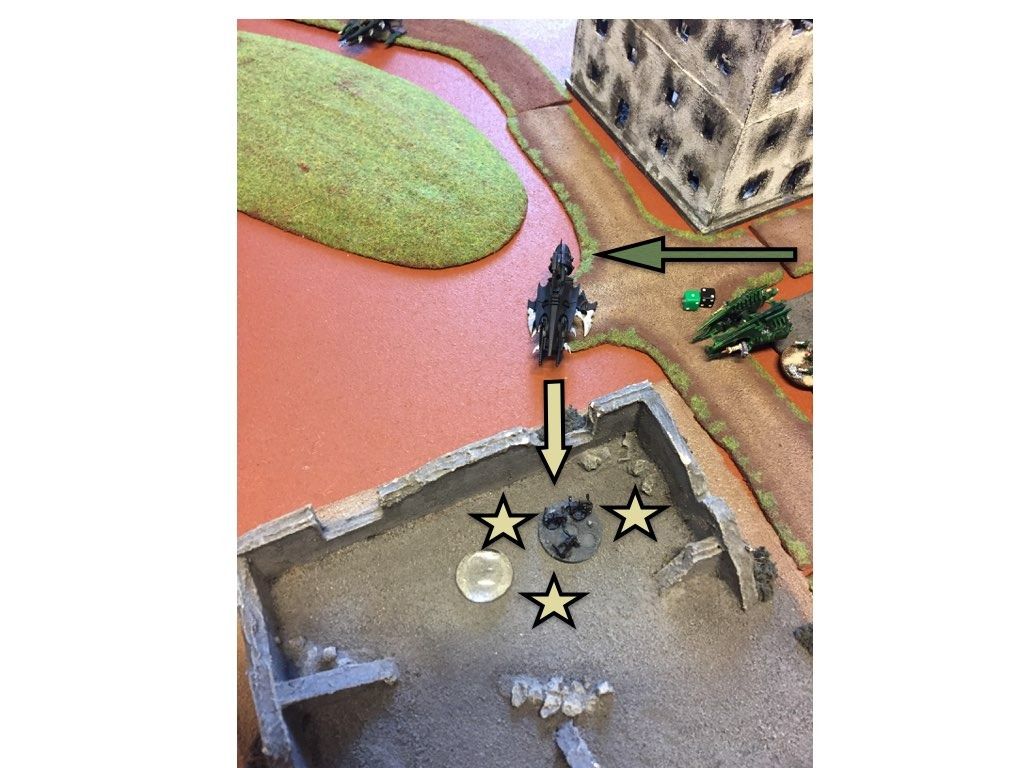 After this I had no more pictures of the turn. Some raptor on reaver assault action went on on the left. Both formations rallied. The obliterators didn't and fled home to the central woods.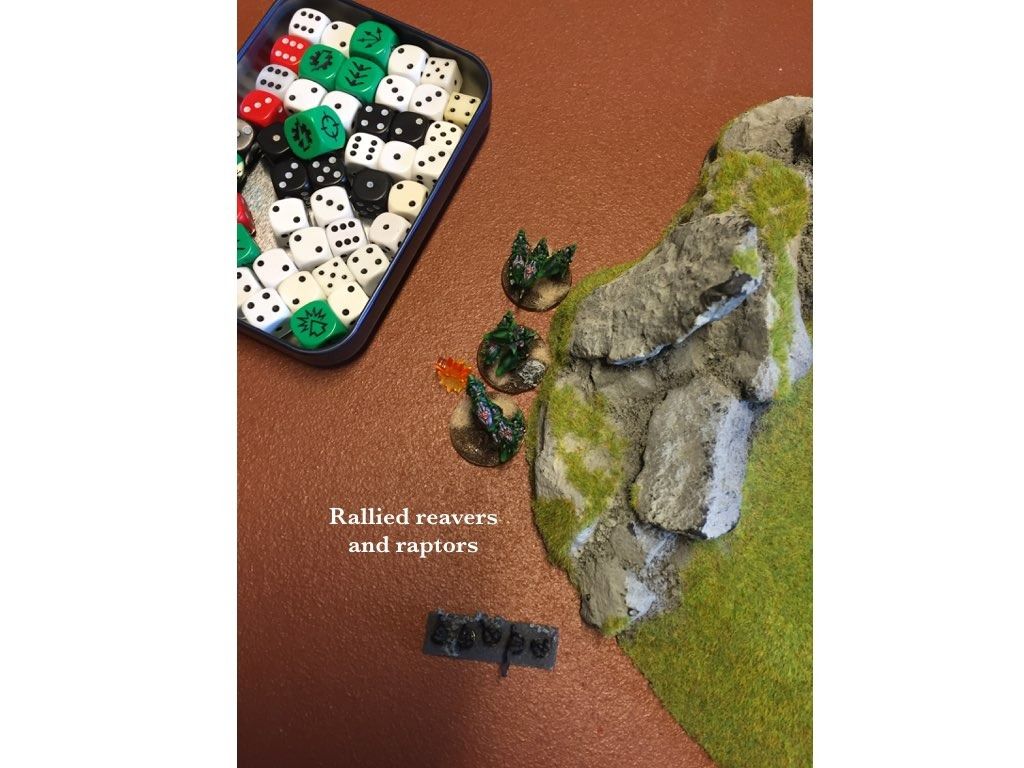 TURN 3
I luckily won the strategy roll for the third time. I started with activating a VoP and killed the rightmost decimator (which had rallied).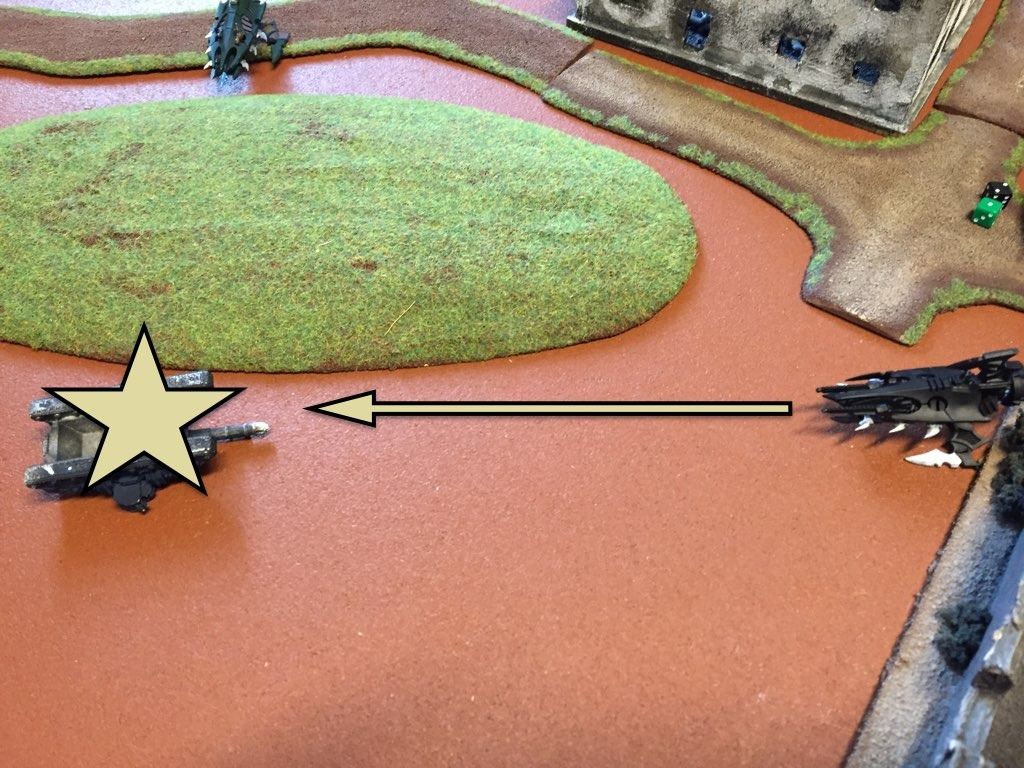 My followup was retaining and sustaining with another VoP. This saw the warhound go down as well.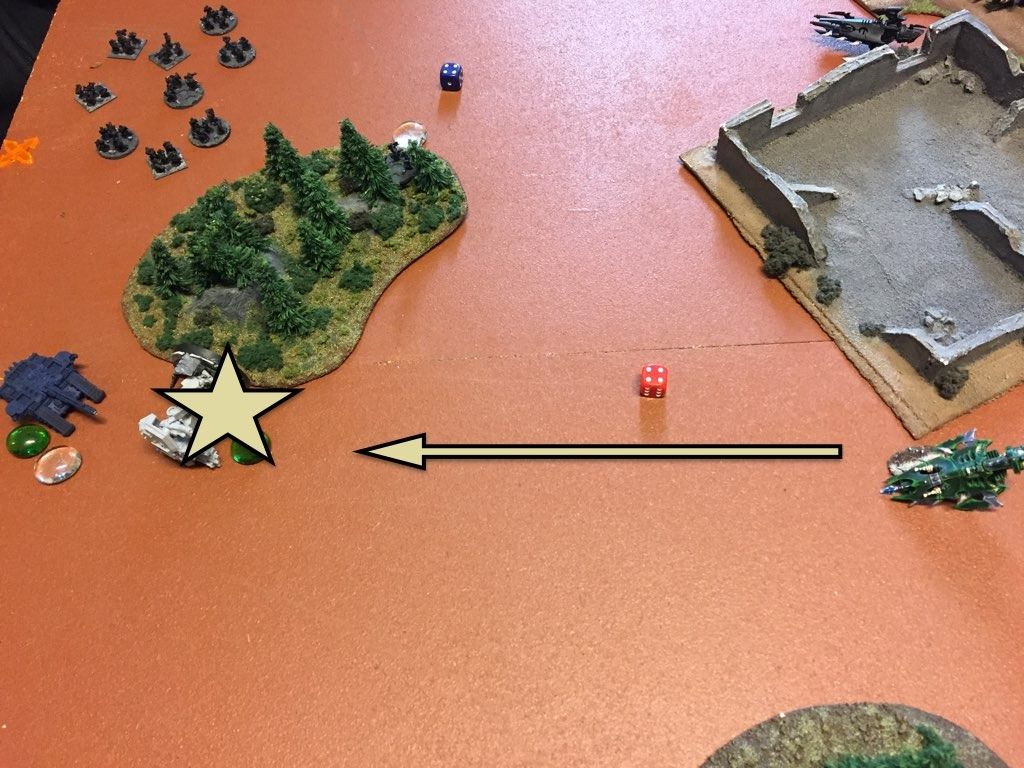 At this point we decided to end the game. My friend only had his Blitz guarding retinue, the havoc rhinos and a lone raptor left unbroken. A 3 or 4 goal victory was probable.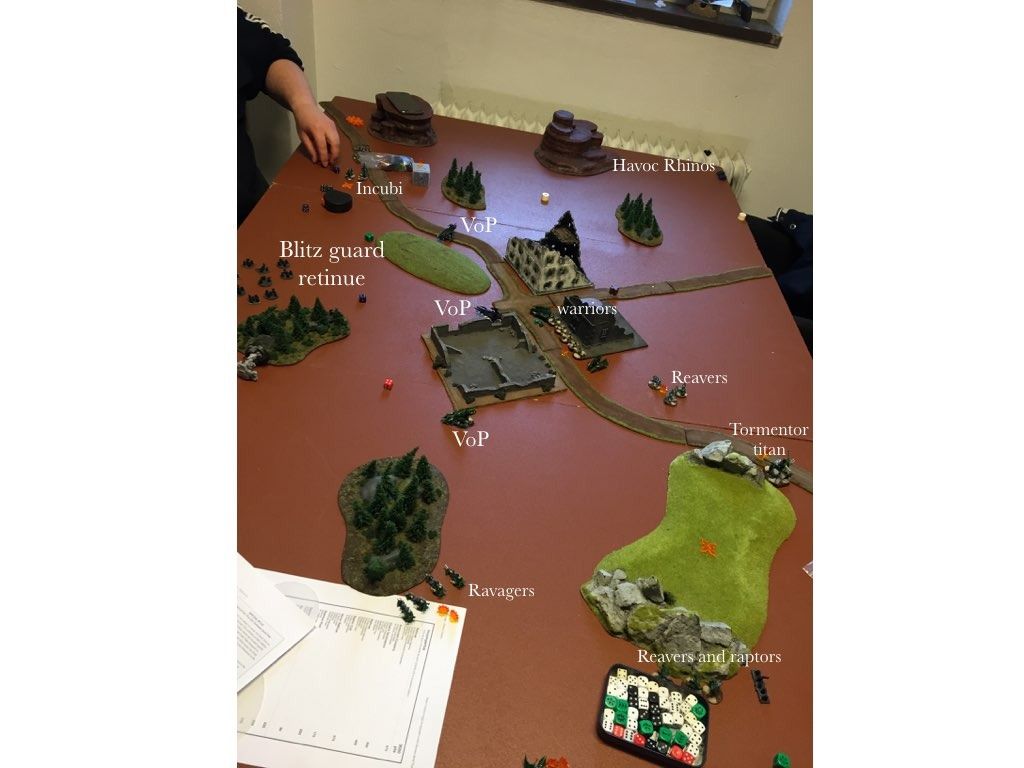 It was a good game. I was of course very lucky with winning initiative every turn against a higher strategy rating list., with turn two being crucial to my win. I would probably have lost my titan otherwise to the terminators, but instead got to kill his BTS formation with it and so claim an objective.
I got to see what my list could do and that my basic theory behind it worked. I proceeded to get third place at the tournament with two wins and one loosing draw (3:0, 0:1, 3:1)
VoP are quite nice. I felt I could comfortably kill most warengines I met between them. With the titan for back up. But three of them makes the list rather weak in other aspects. Taking down large infantry blobs is hard with so many of them.
hope you enjoyed that! dakka dakka!