Battle report – Ork Gargant Mob Vs Legio Gryphonicus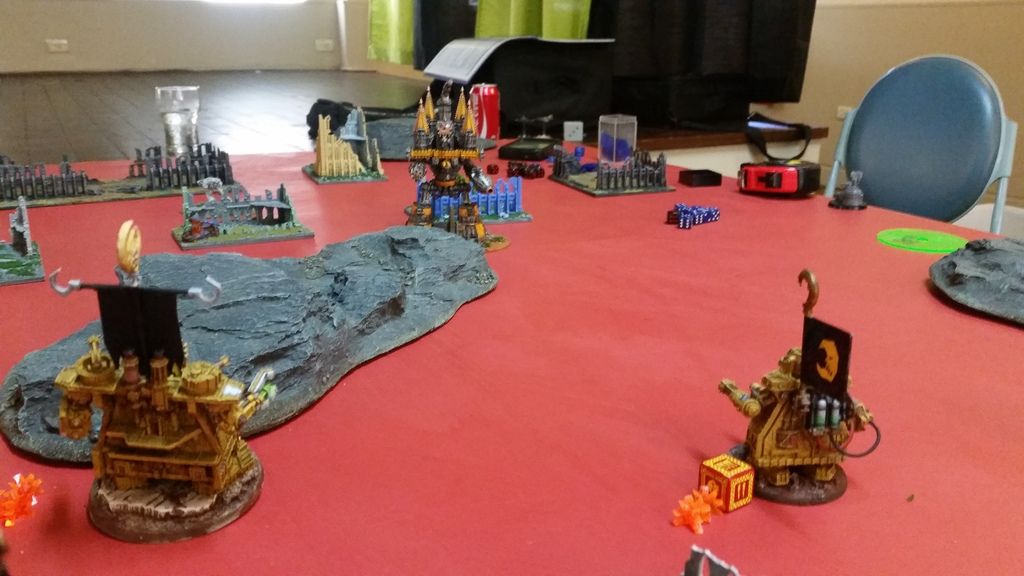 Ork List
Great Gargant, 2 Supa-Zapp Guns, 1 Megalobba, Wyrd Boy Tower, Reinforced boilers
Gargant, 2 Megalobba, 1 Supa-Zapp Gun, Wyrd Boy Tower, Power Fields
Gargant, 2 Supa-Zapp Guns, 1 Megalobba, Reinforced Boiler, Extra Dakka
Loota Boys Mob, 6 Boys, 2 Grots, 2 Big Guns, Oddboys
Stompa Mob, 4 Stompas, 2 Big Guns, 1 Kombat Hammer each
Fightabommas, 3 Fighta Bommas
Fightabommas, 3 Fighta Bommas
Legio Gryphonnicus
Imperator Titan, Legate
Reaver Titan, Laser Blaster, 2 Volcano Cannons
Reaver Titan, Veteran Princips, 2 Close Combat Weapons, Apocalypse Launcher
Thunderbolt Fighters
Thunderbolt Fighters
Prep – Ben Garbutt won strategy rolls off. He places objectives close together on my side hoping for a titan to hold both, Blitz close as possible to me.
I placed my blitz direct opposite his, trying to tempt a titan out of position and my other 2 far right once again trying to spread his limited resources.
Ben Took Corners, kept his titan tight packed close as they can be to me
I spread out my Stompas on the right and boys on the left
Great Gargant 7 Shields, Gargant 1 6 Shields, Gargant2 4 Shields
TURN 1
Orks won the strategy roll; Titans to activate first
Ben activates Thunderbolts – ground assault straight at the great gargant, AA takes down 1 plane on the way – Plane takes a shield off Great Gargant
Stompa's activate for a double; move to the right toward the objectives through cover, they stay in ruins take terrain tests.
Thunderbolts 2, go for Stompas, miss with all attacks – 1 BM
Fightabommas 1, intercept on Thunderbolt 1, fancy flying to pack in tight against the arse of the Thunderbolts. 1 Hit, saved 1 BM
Close Combat Titan activates, runs double at the Stompas, no failed terrain, Apocalypse goes on Stompas, template on all 4, no hits (requiring 7s), Stomps have 2 BM
Fightabommas 2, intercept Thunderbolt 1, 3 shots, 2 hits, 1 failed – Thunderbolt 1 destroyed
Volcano Reaver goes stompas, Volcano cannons kill 1, laserblaster kills 1 more. Unit broken, Stompas run at the close combat titan…to distract him!
Gargant 2 doubles down hill toward imperator staying out of range of a move shoot from the imperator and into the edge of ruins
Imperator activates and doubles at Gargant 2, Quake Cannon, 4 Battlecannons, Defense Laser and Plasma Annihilator fires – not a single hit!!!! – very happy/relieved gargant2!
Great Gargant doubles at imperator, megalobba takes off 2 shields, Zapp guns take off 3 shields 1BM on Imperator 3 Shields remain
Gargant 1 Marches straight behind Monument.
Turn 1 Rally Phase
All Titan forces rally, shaking all BM; Orks fail on Gargant 2 and fail to rally Stompa
1 Fightabomma from fightbommas 1 dies flying off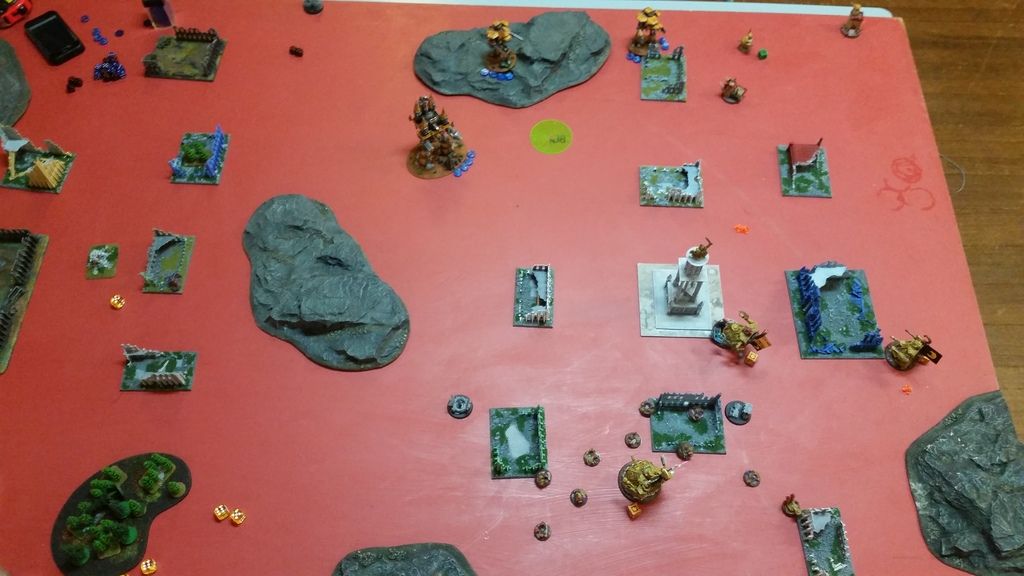 Turn 2
Titan's win Strategy Roll
Imperator Activates! Sustains at Great Gargant – Templates take off 4 shields, defense laser misses, battle cannons take off 2 more shield and 2 hits against Great Gargant. 1 Failed save, 1 Critical, 1 Fire on the Great Gargant! Overflow from the template weapons also kill 2 Boys from the lootas putting on 5 BM
Gargant 1 doubles at the imperator moving into ruins, Megalobbas miss, Zapp gun hits and strips 3 shields 3 BM to Imperator thanks to 10BP megalobba. Imperator has 1 Shield remaining
Great Gargant Retains, sustains – 2 hits from megalobbas, strips shields, saves hit – 2 Zapp guns both hit and do 5 DC of damage and 1 Crit
Volcano Reaver advances toward the Great Gargant and lets rip causing 5DC of damage and 2 fires
Great Gargant now has 6 DC and 10 BM
Gargant 2, doubles toward the imperator, does 4DC of damage of the Imperator. Imperator left on 3DC, breaks and heads for the hills!
Thunderbolt 2 go on CAP
Fightabommas1 fail to activate
Close Combat Reaver Doubles directly toward Gargant2, fires apocalypse launcher and misses all attacks.
Fightabommas2 Activate ground assault CC Reaver, strip 3 shields! 1BM
Turn 2 Rally Phase
Great Gargant takes 3 fire damage – down to 3DC
Gargant 2 Fails to rally
Lootas rally – 2BM remain
Lone Stompa rallies
Imperator Rallies with SC reroll, shakes reactor core damage
Titans all rally
Turn 3
Orks win initiative.
Great Gargant doubles at the imperator getting its arse up on the hill to see – fails to hit…
Gargant 2 retains, doubles at imperator, lobba removes shield, 1 Zapp gun gets through for 3DC of Damage! DEAD IMPERATOR!!!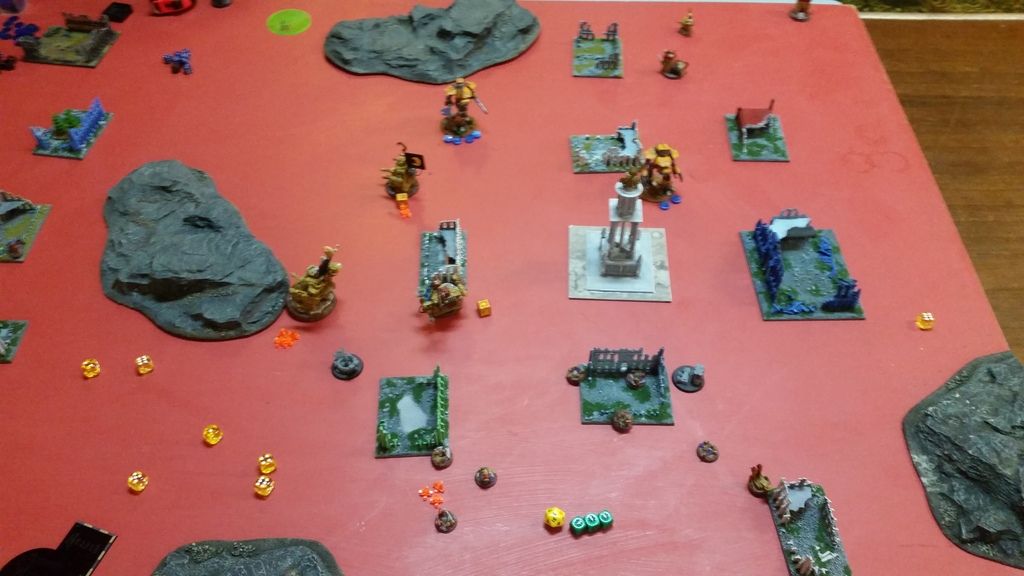 CC Reaver runs at the Great Gargant, apocalypse launcher takes anoth point of damage of the Great Gargant, Reaver's move puts him in the support fire range of all 3 gargants!
Gargant 1 Engages the CC Reaver – 32 attacks in total on the reaver 11 hits– after shields are stripped 2 DC gets through, No Critical, Reaver Breaks
Thunderbolt2 activates and wipes out lone stompa
Volcano Reaver sustains at Gargant2, rips all shields off an 2DC of Damage 1 Critical
Lootas, spread themselves thin with a double covering all 3 DTF objectives
Turn 3 rally phase
CC Reaver fails to rally
Great Gargant pulls it out of his bottom and shakes 3 fires! Surviving the game on 1DC.
Orks win 3-0 BTS, DTF and NSP
Thanks for reading