Turn 1
Vultures pop up and strip 7 of the 8 shields on my Great Gargant
My Bommer drops a load of BP on the Rough Riders clustered behind the hill and turns 3 to kebab meat, breaking them.
Second IG Mech Coy double up behind a hill, and snack on aforementioned kebabs.
The Goff Supa Stompa doubles forward and drops BP on the Mech Coy, taking out 1 Chimera and 1 Guardsman
Shadowsword 1 doubles to draw a line of sight on the Great Garg and knocks down the last shield and inflicts 1DC.
The Zzap toting Supa Stompa doubles forward, doing 1DC on Shadowsword1 and 1 BM on the Vultures behind it.
Storm Trooper march from cover in the middle of the board to cluster around the T&H objective on the Guard left. They then hunkered down and had a pinic for the rest of the game, unmolested by so much as Yogi Bear...
The Loota warband protecting my Blitz goes back on Overwatch
Warhound1 doubles and lays a BM on the Goff Supa
My regular Gargant doubles forward inflicting 1bm on both Warhound1 and the Mech Co behind the hill.
Warhound2 then doubles forward and hides behind some buildings on the Guard right, contesting the other T&H objective at the same time.
My remaining Supa Stompa double forward laying a bm on Shadowsword 1, breaking it, and killing 1 Vulture, breaking them.
Guard Thunder bolts intercept my Bommer, inflicting 2DC on it. The swines.
My Great Gargant doubles forward down the middle of the board (bet the guard never saw that coming...) and coutesy of the Transporta upgrade speed boost end up close up to read the Tax Dics on the Guard Chimera behind the hill.
He targets W/H1, knocking down both shields and inflicting 1DC, which crits. 1bm also on the nearby Inf Coy.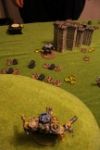 Shadowsword 2 singles forward and takes another point of damage off the Great Gargant.
My other Loota warband remains within the belly of the Great Gargant. Probably playing snap or something.
The Guard SC Mech Coy doubles forward and inflicts a BM on the Great Gargant.
End phase.
Bommer fly off past a pair of Hydras, both of which have moved. They somehow manage to inflict 3 hits from 4 shots, and send him crashing out the sky. Curses.
The Rough Riders and S/S1 both fail to rally