The men of Krieg usually form siege regiments with tens of thousands of men. But others are trained and equipped as tank regiments. As with Death Korps siege regiments they grind down their opponents with overwhelming numbers while caring little for casualties or the fate of individuals.
Attachment:
Krieg Armoured Battlegroup 0.1.xls [20.5 KiB]
Downloaded 418 times
Attachment:
Krieg Armoured Battlegroup Reference 0.1.xls [15 KiB]
Downloaded 194 times
Krieg Armoured Battlegroups have their own full army list in 40k (in FW's Imperial Armour 7 book, the last of the Vraks trilogy) and this new list I'm putting out there is heavily based on that and what we know of them from the books. In practice it's a bit of a mash-up of the epic Minervan and Krieg lists, with Krieg versions of the Russes plus one all new unit (the Malcador Infernus, a corrosive gas tank Krieg favour). It'll need some testing and tweaks and the costing is a bit of guesswork but there are various downsides and limitations compared to the Minnervan list and I'd be surprised if there were any major balance issues. I mostly wrote it up some time ago and it's about time I put it out there. It'll be a side project that I'll test occasionally, rather than my main focus, but Krieg are my favourite IG army and I have a suitable model collection for them so I'd like to develop an appropriate list. It could be a good list for anyone who likes Krieg, lots of tanks, or has the FW epic Leman Russ models (which all came without sponsons).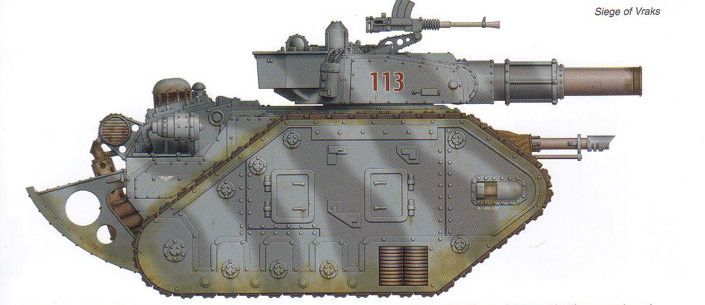 Krieg Russ variants:
These are specially modified for their environments with trench rails (can re-roll failed dangerous terrain tests caused by trenches). Also, significantly, Krieg don't fit any of their Russes with sponsons (there are probably 50+ Russes depicted in the FW trilogy of Imperial Armour trilogy and none of them have sponsons), though they come with a pintle mounted Heavy Stubber instead. As a result their shooting, FF and cost is reduced, differentiating the list from other armoured lists and enabling slightly more tanks on the table (fitting the swamp the enemy with numbers tactics favoured by Krieg).
Unit inclusions
:
I put in the core Krieg vehicles that FW released Krieg specific versions of the models for and those depicted in the Vraks trilogy, leaving out the wider range of Russ variants and IG vehicles. I dislike the Minervan Destroyer stats (which are are hugely excessive compared to it's 40k abilities by giving it TK) and considered borrowing the Epic-UK version instead which makes the Destroyer Tank Hunter 75cm AT2+ Sniper with the unit also having scout, but ultimately I decided it was just easier to not include the unit in the list and anyone with them can just count them as a Vanquisher instead. I added rare support formations (2 of which can be taken in a 3k list) which can be a platoon of Krieg infantry (10 strong rather than the 20 strong companies in the Krieg list) which come with either a Gorgon or trenches. It seemed appropriate to be able to take some infantry and trenches on the table even if the army is based around tanks.
Malcador Infernus:
I'm particularly keen on feedback on this. It's a Malcador variant, so 4+ Reinforced and with only 15cm move. It's corrosive gas canon seems to be similar but more powerful than the Hellhound's Inferno Gun so I stated it at 30cm AP2+ Disrupt, Ignore Cover. Is 175 reasonable for an upgrade of 3? They're powerful units at close range but can only be added to an expensive core formation and they would slow down a Russ tank company with their 15cm move.
I want the core of the list to have to be Russes but do people think Machariuses be a company rather than a platoon? If so would it still be 3 of them or a greater number?
Refer to the existing Death Korps of Krieg and Minnervan references for the other unit stats.
Thoughts? Comments, feedback and playtesting welcome!