Firstly, I was wondering if anyone actual has an issue with 6mm fantasy being posted here. I know a few other people post there work in 6mm fantasy (all of them much more talented than me!) but being a primarily 6mm sci fi section, I may consider moving it to its own web page to avoid cluttering up this forum, especially as most of my sci fi stuff is taking a back seat for the time being, as the only sci fi army I am currently working on is being kept offline until more is completed. (mostly because each miniature has to be converted, and it is very dull work!)
Having been off work, firstly recovering from a minor operation, and then this week, on holiday I have blasted through (well, for me anyway!) some painting and have actually accomplished some finished miniatures! I have painted more in these last 3 months than I have ever previously in the entire time I was into Warhammer (since the mid 90s!) so I am pretty impressed with myself so far!
Not only have I been working on my 6mm fantasy, I have also made a big dent in to my work in to my secret Chaos army, by actually painting up the first slot of minis, as well as building an insanely huge titan.
In addition I started painting a couple of 15mm scale Panzers (albeit, incredibly badly!)
I still have an incredible lead mountain for fantasy though, but I am at least pleased getting some colour schemes down, and some bases complete!
I have also been trying to learn how to use my (new) camera better, and using editing software to to clean up my photos, I hope they these appear nicer to your eyes then the current standard of my awful photography in this log!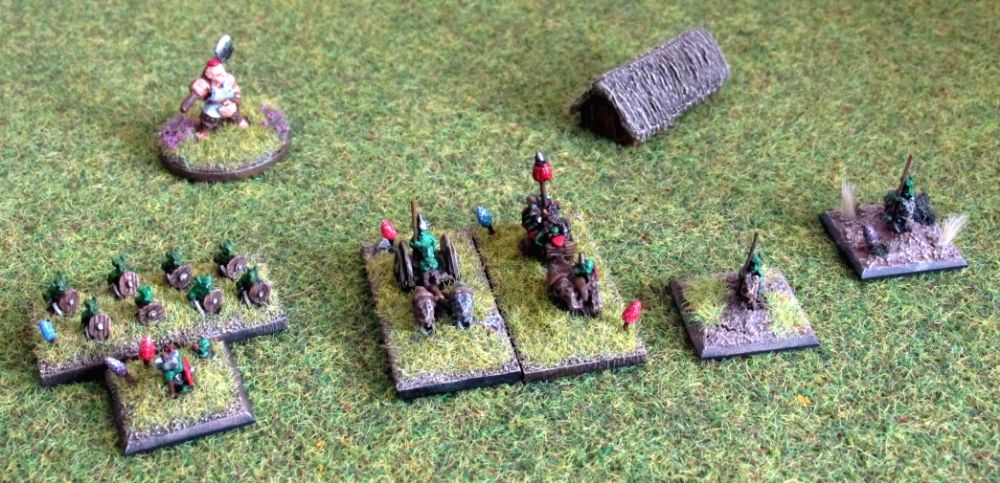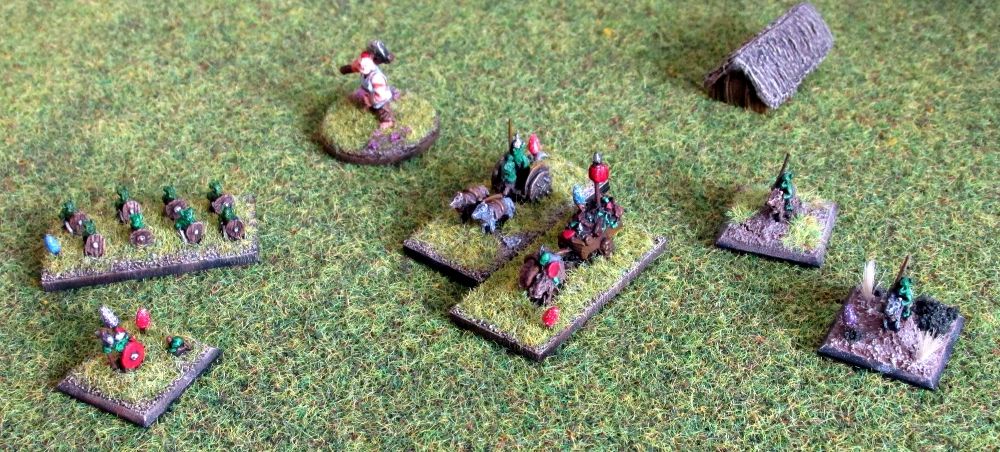 Includes the ogre/giant creature that got painted up for fun, I think he fits in nicely, thought He will more than likely be replaced by the giant from cobblestone when I get round to ordering him. The hut is a irregular cast from one of the little defence sets they do. Pretty much Identical to the leven miniatures versions, except it needed a ton of clean up, as the mould lines were hideous!
The mushrooms are all hand made and hand painted, the spots wash out in the photos a lot due to the incredible amount of gloss on them to protect them during the basing! I have some larger monsters due up soon and I should be able to get some nice clear shots of them, and then the insane amount of detail on them will be more apparent!
Finally finished up the trees I have had since last year, found an excellent colour mix of forest flock in the local railway shop. The back tree does have a slight frosting from my over zealous use of plasti-coat, but Its not so noticeable in the flesh, but it should vanish completely when I re coat it, just been waiting on a load of minis needing to be done at once.
I only noticed how much static grass is stuck to the trees, once I saw this photo, so I will go back and brush that off!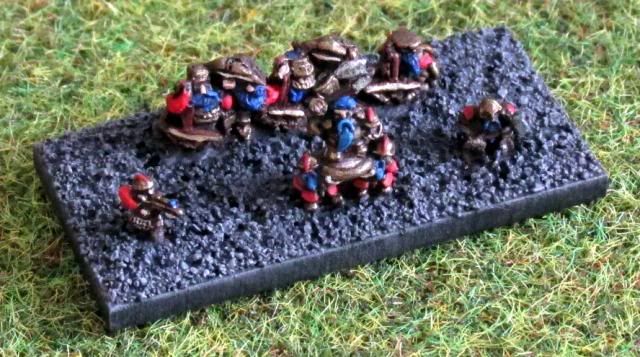 A test base for my Dark Dwarrows that I started when I was recovering, This is a mix of both irregular dark dwarves, and MWG command dwarves. They are some of the most insanely detailed 6mm figures I have ever tried to paint, and there's no way I was able to do they any kind of justice! But they are fun to paint, and it was nice to paint a scheme that was more unusual they the normal dark and brooding colours!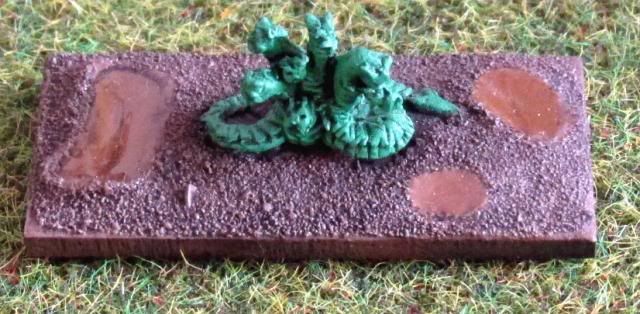 An irregular hydra, one of my favourite 6mm miniatures out there. I gave it a real easy paint job as I didn't think I could handle to do it in two tone scheme, but I may go back and add some more highlights as the photo shows how plain he looks. The puddles took a life time to dry, and now they are dry I will go back and add some reeds, though I may cover up the worst of the two right most puddles as they are rather flat compared to the actual deep puddle that is sculpted on.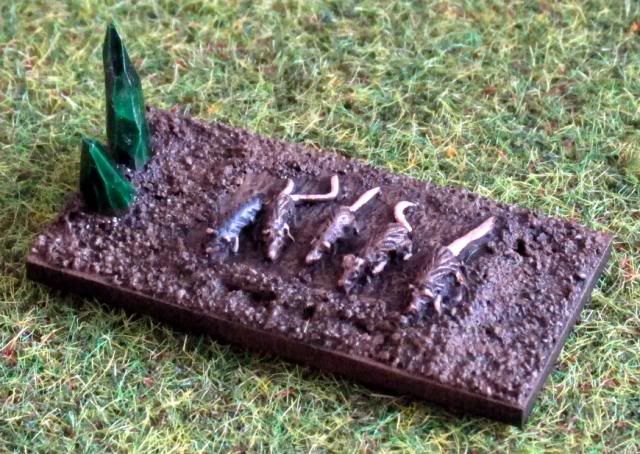 The first test base of my 6mm rat swarms, The rest are painted, just awaiting to be based. I also have a KoW horde sized base of rat slaves painted up, they are just awaiting a hero mini to be painted up, and for me to decide on what colour to paint their standard! So that, and hopefully the first of MWG wood elves, is what is in store for next time!