Combat! Starring Vic Murrow!
This is another World War II skirmish game focusing on 1:1 scale. I know what you are probably thinking, "Do we really need another World War II game? There are so many good ones!" I agree. That's why this World War II game has a twist. It is not focused on the realism of the actual World War II instead it is trying to capture the flavor of the TV show
Combat!
that used to be on NBC. What does that mean? Well, the heroes are expected to do heroic things, ratings are all important, and things are just real enough to be entertaining. With that being said, let's take a look at this week's episode!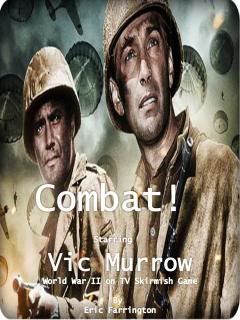 A Chance Encounter

Sgt. Saunders and his squad awake in the ruins of an old French house at the edge of a wood. Perhaps it was a hunting den or small cottage before the war, but now it is just wreckage. However, what woke them is the sounds of men moving through the brush. This close to the front lines, and it is probably a German patrol sweeping the area and doing some scouting of their own. Now what?
Forces:
Americans
Sgt. Saunders- Star
Tommy Gun, Pistol
Little John- Cast
Rifle, Bayonet, Grenades
Kirby- Cast
Automatic Rifle, Knife
2 Extras
Rifle, Bayonet
Germans
Sergeant- Cast
SMG, Knife, Grenades
2 Extras
LMG
3 Extras
Rifles
I realized right away that my terrain selection for WWII games set in France is not very good. Therefore, I threw together a wooded board. It is 3 feet by 3 feet. The models themselves will just be Green Army Men, perhaps later I will get a box of Americans and Germans from somewhere for something a bit more in-character.
The scenario will be straight forward. Try to eliminate the enemy and not get killed yourself.
Shall we begin?
http://bloodandspectacles.blogspot.com/ ... attle.html
If you want to watch a few episodes, you can find some on Youtube:
https://www.youtube.com/watch?v=IS4grrSWuZo
I used to watch re-runs of this show as a kid with my dad on a local UHF station. This games for you Dad!
_________________
Do you like Free Wargames?
http://bloodandspectacles.blogspot.com/