Our boyz sure likes build-in on dese Roks. I'z got ta say dat day carve up all easy like. Any of you Gitz got much experience playing wif dis styrefome? (any advice would be a big help) Gluing fings may pose a challenge, I'z a bit in unknown territory (sorta likes being in da chow line ahead of a mob of hungry Goffs). At any rate da project keeps slowly moving forwads.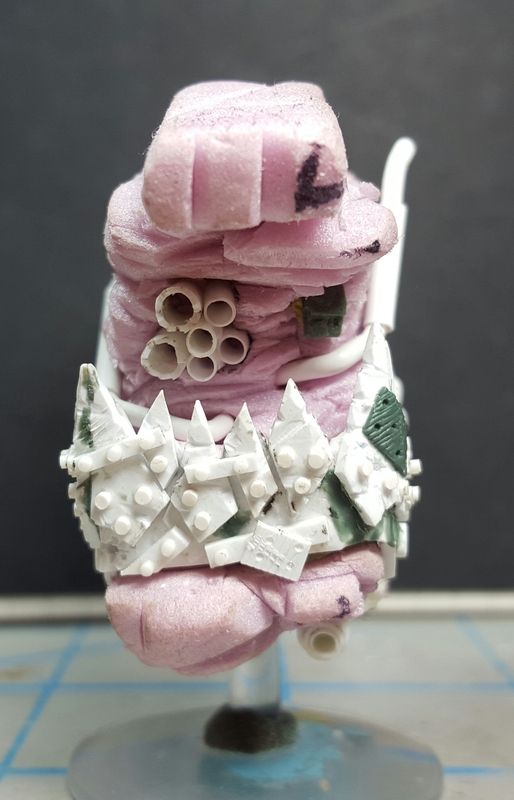 So I gots some big shootas in place. Problem is I got a bit carried aways. Iz finking dat I need to remove 2 of dem. Still when dis ere Rok lines up on yer ship it's gonna be screaming (or betta put) you're gonna be screaming, Wez like it dat way, see. Ok, ok… I added a gunnery shak. It's not it's final home. When I adjust da Big Shootas, Iz gonna line it up closer to da Big Shootas me finks. Notice I didn't change dem big rivets as of yet or da big hole cover-in plate. I'll gets ta it. I juz sorta got lost in da shootas and exhaust pipes. Da Big Boss wanted iz engines an shootas moving in a propra direction furst.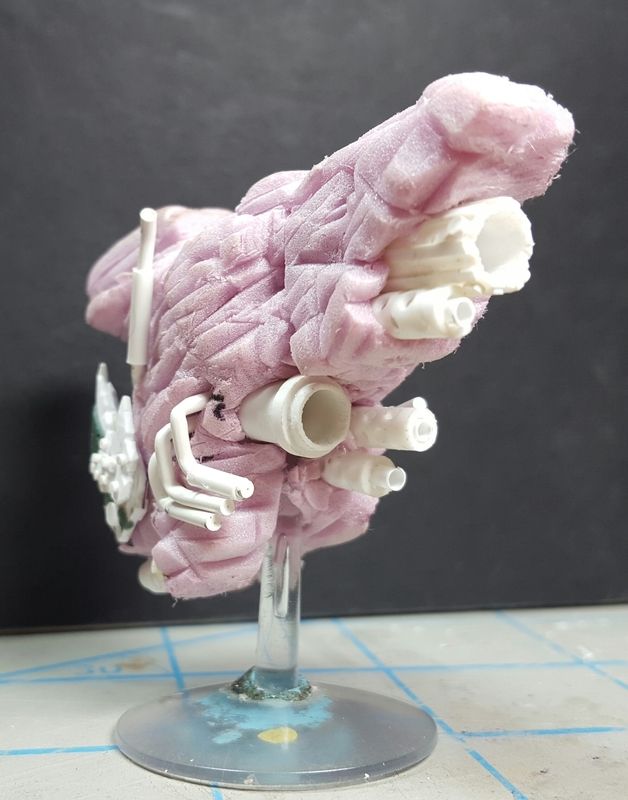 Dare Boss, it's got engines. I'z finking dis would be a good Rok fer dim Sunz Boyz dat been racing dim fightas around our flotilla afta work periods. I bet a good spanna wrench we finds us a right propra Kaptain dare. I knows dis ere Rok is gonnna be a fast wun. Ok, I needs to go in an green up around da flight stand hole. Dis ere will make da piece more stable and tie the rear together. Finish out da engines wif some green love too. Getting closer, I can smell da burning burn of dem big engines. Makes a Git all giddy.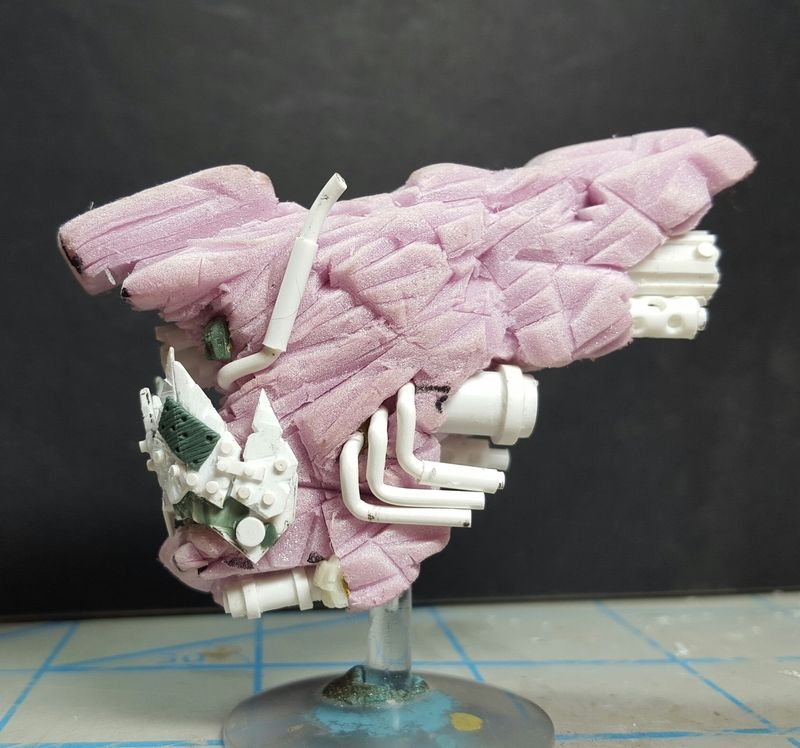 Ere is a Port view fer ya. Can ya sees me lil resin shak down by da chin shoota. I'z a happy Git cause da help from me "Sac Town Lad" really paid off an nows Iz gotz more shaks dan a Git knows wot ta do wif. (any advice on cleaning da tiny resin pieces? Day is small and fiddly. Iz lookin at da exhaust mufflers and finking abouts how I'z gonna add some details. I was gonna drill dem out, but I don't want to use dat idea up to much. Even though any Boy in his right mind goes bonkers ova mufflers all shiny and chrome like, Ummmmmmm da 3 exhaust pipes came out a little swirly. I'm debating if I should take another shot at dem. It does give it some Orky flavor, but Da Big Boss isn't your average run of da mill Ork, see. I worry about my worky parts if E sees it an doesn't give it iz stamp of approval. It's not as gravy as wun would fink being a Big Grot Mek in dis growing Waaagh. It can get hazardious ta wuns well being.
Ere is da ova side. More of da same. Work ta be done. Da mufflers on dis side also need some love. An Iz also finking I may need another pipe (Da Rok may lean ta da Starboard side an dat's bad fer da shoot-in). Wot da ya fink? Oh I likes how dem Big Shootas pop out of da Prow. Smile umie I'z Gotz some-fing fer ya! (like get-in a big wet lick from yer Squig Hound afta feeding it a Slacka Snot!)
Ahhhhhhh like Da 3 Big Bosses. Da is gonna dominate their piece of da big empty. Fink yer beekies gonna be put-in da stomp on us. Fink again Man-lings. My advise fer 2016 is ta pack yer bags an find another rock ta call ome. Or just stay put and join us fer chow and lotz o fun fings wez got planned! Ok den dat's me fer now. Thanks fer checking out and sharing in me project.