Ok den, been working a bit, problem is Da Squigs been keeping me extra busy and dat's not mentioning da real work an dat's keeping up wif me lil snotlings. Momma keeps dis Grot run-in. Ok now dat dats out of da way I can get ya up to speed wif me secret life and dat's build-in dis Waaagh fer da ova Big boss, See. Ok, ok. Work as always is real slow an sometimes a git has a hard time staying motivated. Dese parts is real small and sometimes I fink I should mention to da Boss dat 28mm scale is good fer da crump-in too. Nahhhhhh I fink I'll juz keep focused n lives a lot longer. So ere is where I'z at right now. It's all messy and covered with dat sticky squig putty, but I juz wantz to get a good looks see. Dis way I can figure outs what needs big changes, what needs little changes and it gives me a chance to pick all of you Gitz brains. It takes a village (or a Clan) ta build a ship and well you're my village.
Ok Den, I took me Big Shoota Shak and had ta put a sniking on it. Da windows were juz too big an well I likes dem more better now. Trying to represent scale and yet keep the feeling is a rough fing. I know I'm off a lot, but like a stick bomb I'z juz want ta get close. Dem big windows I couldn't really tell a story around (to me self, so how iz I gonna fool you). At any rate day is gone now and da new ones look more betta me finks.
So ere is me ship wif "Hangga Town" attached. I put some shootas in place fer now just to peek. Up top of da Hanggas is a press mold shak juz fer a look. I wanted to check how day would fit. I fink it could work even though it's not a great cast. Up top side is a few big shootas. I gotz ta fix every-fing real nice an pretty like, but dis is me idea fer now.
Ere is a shot fer scale. Dats a Goff smasha ship (Da Bad Burg) kroosing along da Starboard side. It's still WIP, but dat ship too is coming along. I'm finking about painting and me cunning plan was to make Da Dakka Town a Bad Moon Krooser, but dang as I'z building some-fing is saying Deff Skull Lootas. I finks day is fighting up in Da drivas shak as I types me sweet letters to ya. Time will tell, time always tells ya knows.
Ere is a shot of da ova side. Again all of da stuff is juz sort of stuck dare wif Squig juice for a good looking. I fink I'z a liking it, but I know I need ta build some more hab stacks n lil towers. More ta go but it'z coming. Me hopes. Oh, I'z also gotz ta build more exhausts. It's gonna need more engine pushing than juz da two out of da back side. It's gonna be a funny ship to fly. Me bets a bag of teef dat yer best imperial pilot or dem Mars boyz wouldn't wantz ta even trys at giving it a go around da block.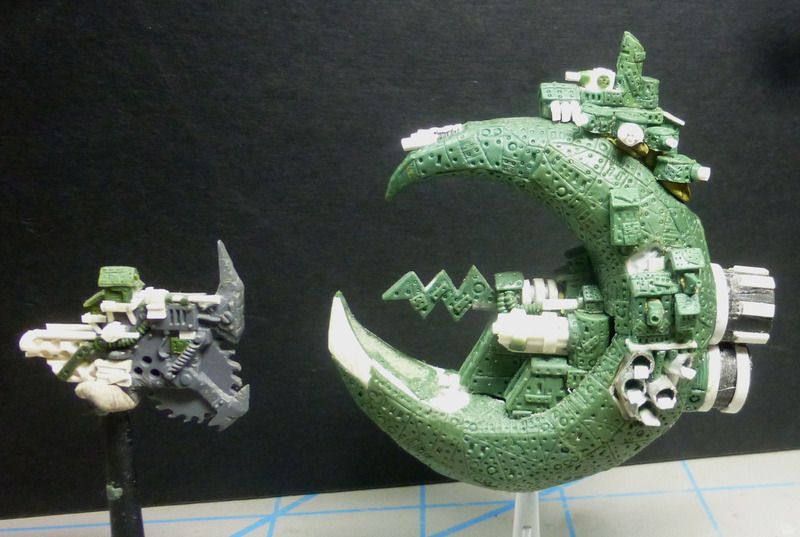 An ere is da ova side with Da Nid (another ram ship) fer scale. Ahhhhhh 1 step, 1 step. I hope yer getting ready fer a good fight n building up yer Waaaagh and is getting all fired up ta join us fer da big party. As always thanks for taking the time to read and share in my madness and any comments, criticism or wot nots helps keep dis git motivated. Thanks!
Oh n big thanks Brother Blind and Epic fer da kind words. I'z all big toothy smiles!