All right den, I'z back. Da Big Boss gotz all crazy like wif is Squig Hounds see. So I'z been a run-in and taking kare of dem; fer em. Da Big Boss is like dat see. One minute e wantz wagons da next fing ya know E wantz Fighta Bommas! I juz say "right boss" and do wot e wantz. It makes fer a longer life dat way, Ya, knows………. Dis Boss is pretty good, and well more betta dan da last Boss. One fing is fer sure, if ya watch yer 6 it usually isn't long until another Boss comes along. Ok den, so work has been slow, well besides training Squig Hounds to get Gitz dat iz …… All right den, enough of dat Big Grot biz, Ere we go already………………..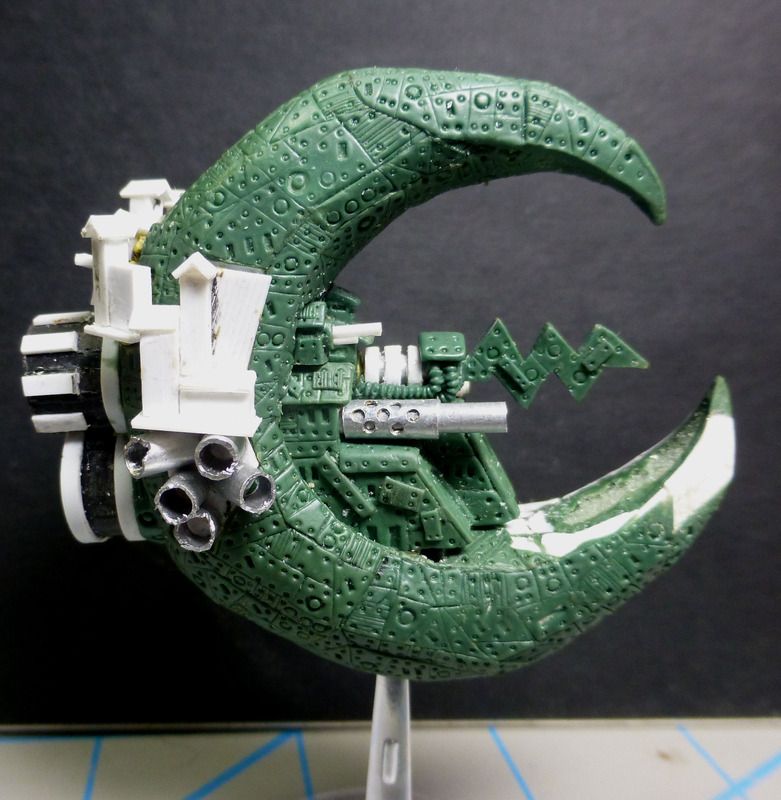 Ok den, I fink I'z finished the Big Zappa now. I likes how dat one came out! It's goona be all a pretty n Blue shoot-in across da big empty. Gonna make dem Pansies all a dance around n flip flop like little fishes when it hits dare ship. The smaller gun shak on top of the prow Heavy gun is just sitting there fer a look at. I've built several and not sure which one ta use. I kind of like dat wun. I'z been adding Shaks an platforms an hannga tubes fer da Fighta Bommas. Da bit dat has da hannga tubes comes off can be swapped out wif a Heavy Gunz piece. This way I have options to play it as a Terror Ship or a Kill Krooser depending on Da Bosses cunnin plan. I likes dis about dis Boss. Dat Goff Boss was quick fer da Crumpin but not much fer da cunnin. Dats why e aint wif us anymore (looking left to right, and smiling from ear to ear). Right now da shaks are just sort of stuck dare so I'z can getz a good look-see. Once I likes dem den I'll throw green on dem an turns dem into propra shaks. Da trick fer me is finding da right balance. Ahhhhhhh Da balance.
Here's da ova side. It needs a lot of work, but you get the idea of where we'z gonning wif it. My big plan was to figure out Da Hanngas. You see dare is no-fing likes da look on some Gitz face when a million rippa squigs fly out of da Da Dakka Town wif big bombs n rockets and shootas all a screaming towards dare ships. Ahhhhh makes me stomic feel all a warm and fuzzy like eating raw crawley grubs! Da Boss like iz flyers and as been putting a big crumpin on Gitz wif dem of late. So I knew I hads ta get dem right. I hope you approve of dem. I fink I likes dem and I'z calling da job a good-un. So I gotz dis secret plan of being able to cast me bits. Dis way fer future ships I can use the cast bits to outfit ova ships. Ahhhhhhh me mitz is crossed and hopping Gork will smile on me. We will see. Speaking of casting bitz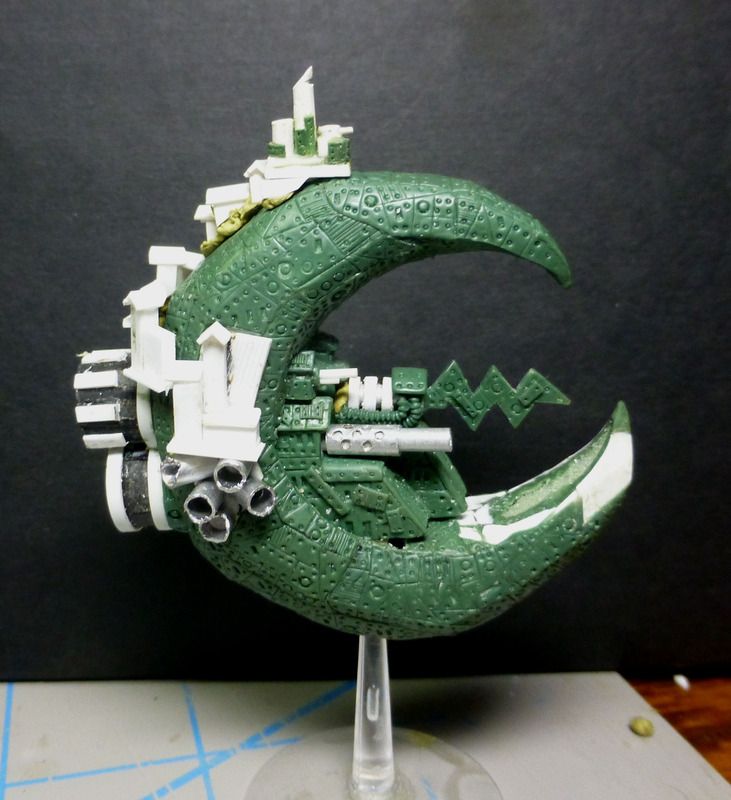 So Da next step of dis project Iz start a climbing up da back side like catching a ride on a Tuska Beast. I knows I'm working me way up ta da drive-ua seat. Iz throw in some bitz from other ships To see if I likes any of dem. You see da drive-ua seat is really what a Boss sees, well besides all of da shooty bitz and big smasha prow. So I know da Drive-ua seat is going to need to be a good un. Dis wun is da Tower bit. I'z still planning on making dis ship a "Bad Moon" project and everyone knows dem big toofed fancy Gits like dare towers. So I'z liking it so far. Ok a bit more fer ya,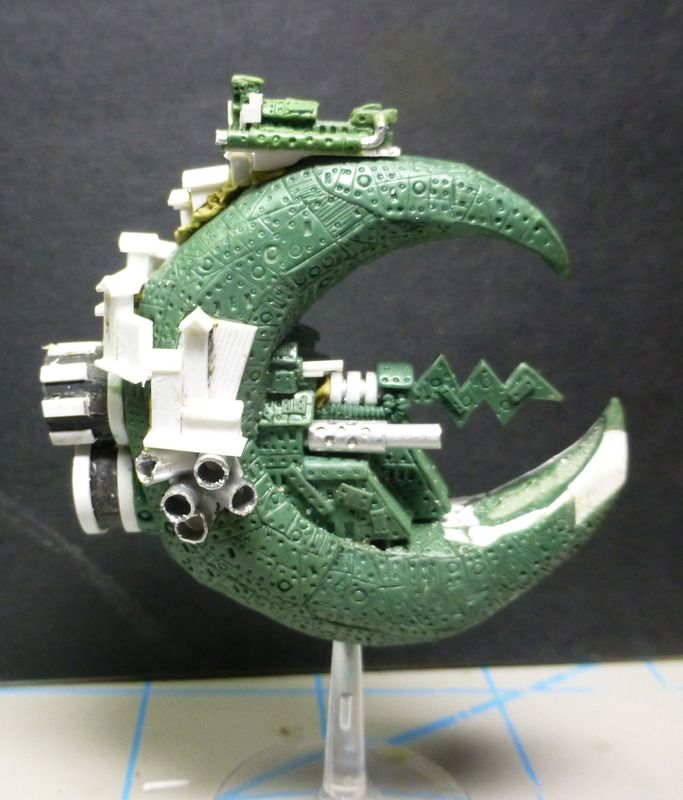 Dis one is da "Dragsta Bit" I really likes it on da escort it truly belongs to, but I had it so I wanted ta take a peek at how it looked on Da "Dakka Town". I'm finking a few more exhaust pipes and a dab of Red paint and ya knows………………… It could work. Den I could say it was a "Bad Moon" ship, but den dem Crazy "Speed Freaks" took control and now dey is in da Driva-uas-seat. You knows life on a Ork ship is like dat. One day da Driva seat is all Gold and frilly wif fancy eating squigs and smoothey smooth slave girls a hanging about. Den da next it's all cluttered wif Grubbins and half broken fings painted blue. Like a big Rat Squigs nest. Dat's probably where you'll find yer boots if dare missing, see. Ok den let's get ta move-in on den
Ok last up is Da "Truck Bit". Ummmmmm I'z really like dis one too. Some-fing about look-in likes a big truck really makes a Big Boss's mouth hole get all toothy and friendly like. Again I really like dis bit on its escort, but hey if I can cast dem, den it doesn't matter cause they will sort of get lost in da beautiful clutter and I can use da same bit in several places, see. Ok den. What-cha finking? Do you have a Drive-uas seat you is a liking more betta? Please let me know, or perhaps me finking dat I'll juz build me a new one. Dis Grot has a busy mind and is having trouble getting it straight. Oh, on da back side is some of me scribbling trying to figure out da fit. So call it a idea. Ok den, as always big thanks for taking da time to check out me Squig Pak and listning to dis Grot ramble. Comments and criticism are not only welcomed, but helpful!